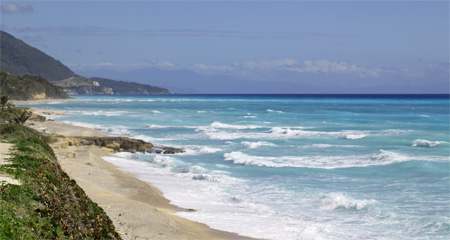 The Southern Coast

I'd long thought that I'd be more likely to run into a Unicorn than a Solenodon. But in 2010 rumours began to reach me that they were findable in the right place, at the right time and with the right guide in the Dominican Republic.
4 years, and many emails later, Fiona Reid, Vladimir Dinets and I took a short trip to go look for them. We organised the trip through Jorge Brocca who runs the Dominican Ornithological Society but might be more interested mammals to birds. Who can blame him? He was also one of the forces behind the Last Survivors project on the island, tset up to protect Hutias and Solenodons. It was during the field work for this project that people perfected the art of finding Solenodons. But more on this later. Jorge is willing for the society to organise more trips, with the profit going to support conservation on the island.
Jorge may well have the busiest phone in the world, so don't be alarmed if he doesn't reply in detail to emails. In fact calling, not emailing, him is far the best way to organise things (he speaks perfect English). He, and his team, did a great job.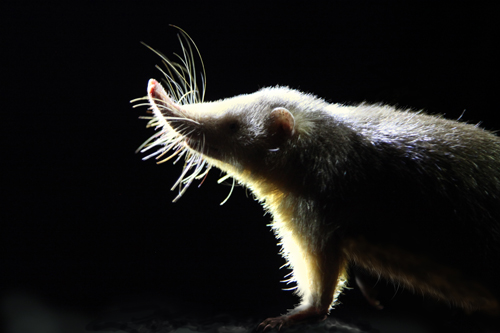 Hispaniolan Solenodon

Solenodons and Hutias are best found by sound. And they are much easier to hear in the rustling foliage of the dry season. So late January - when we went - is pretty much the optimal time, at least if you are looking in the south west of the country.
Jorge met us at the airport and drove the "6 hours" to Pedernales, regional capital of the south west, which was to be our base for 3 nights. The 6 hours took Jorge 4.5, including a stop for lunch. I suspect he , and fellow Argentinian Juan Manuel Fangio, share some DNA or the same driving instructor. We stayed 3 nights at the basic but friendly Hostal Dona Chava, which may not have hot water (apparently nowhere in town does), but did have fast wifi and a tasty breakfast.
We spent 3 nights there looking for Solenodons, Hutias and bats. During the day you can go birding to some good sites. I chose to do very little. Pedernales is slap bang in the middle of the best Solenodon and Hutia populations in the country. Its also home to Nicolas, and his son Christopher, who are probably the best Solenodon and Hutia trackers in the world. They work together, moving quickly through forest and over the rocky ground, listening for signs of animals. If they hear one they try to grab it and bring it back to the car. This works more often with Solenodons than Hutias. If they can't grab a Hutia then one can stay with it (they are usually feeding in trees) while the other collects the punters to have a look. It would have been fun to have gone with them, but I suspect every extra set of footsteps in the forest reduces by half the chance of hearing the animals.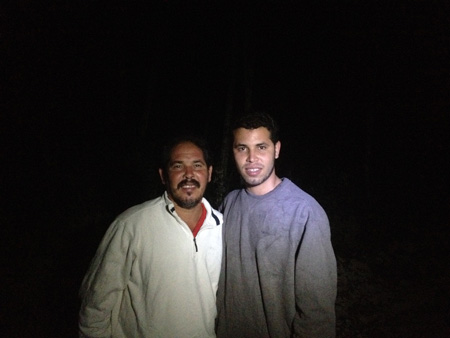 Nicolas and Christopher
Nicolas claimed he was 95% sure we'd see a Solenodon (odds that would decline to about 50% sure in the wet season). And, sure enough, at our third stop on the first night, at around midnight, he caught one in forest adjoining the small village of Las Mercedes about 20 minutes north east of Pedernales. What a great animal!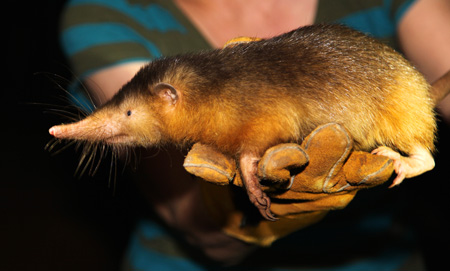 Hispaniolan Solendon
Nicolas grabbed the animal by its tail. They have, of course, a venomous bite that can kill a dog, though the jury is apparently still out on its effects on people: it seems to make some sick, while others claim it does nothing. We took no chances and wore a welding glove: venom aside they have impressive claws and teeth.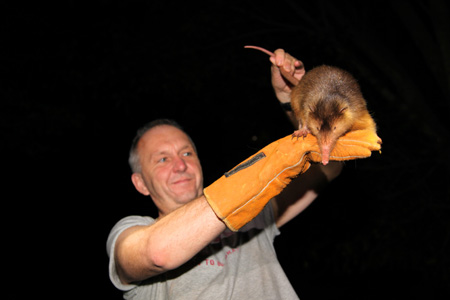 And 20 minutes later we watched it waddle off, at surpising speed, back into the forest.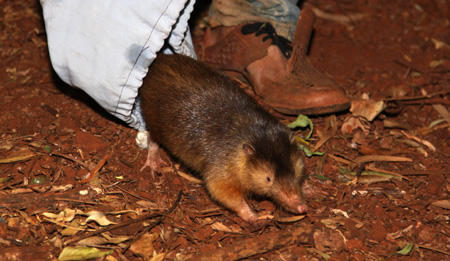 A great start to the trip. And while we were keen to see more Solenodons we preferred next to focus on finding a Hutia, an altogether harder proposition (Nicolas gave the odds as 50% in the dry, down to 20% in the wet).
The second night, we looked for Hutias in the same area. The guys almost grabbed one, but realised - when they went for it - that they had forgotten the all important glove. Hutias bite very well. They claimed to have heard a few more over the course of the evening but high in the canopy and out of site. By midnight they gave up and went home.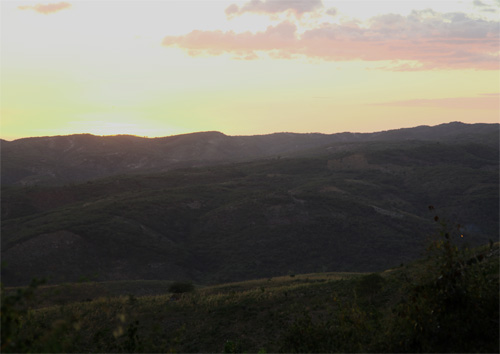 Sunset over Haiti
Night 3, and the pressure was on. Jorge encouraged Nicolas to try another area, that is apparantly more productive for Hutias, and at dusk we were close to the Haitian border about 10kms north of Pedernales.
After a couple of hours of searching we heard Nicolas's shouts of triumph. They'd found a group of Hutias up the hill. We charged up there and got a great look at one animal in particular. Apparently their warren has been well known to Nicolas for more than 10 years. It really didn't seem bothered by our presence.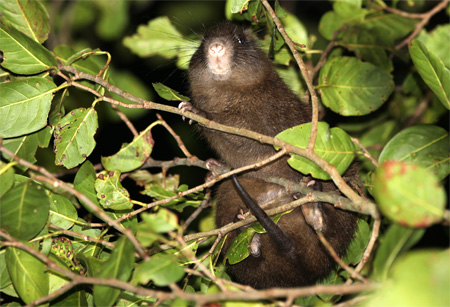 Hispaniolan Hutia
Delighted with the Hutias, which were far from guaranteed, we went back to town.
While waiting for the animals each night we caught a few bats.
Jamaican Fruit-eating Bats were everywhere as you might expect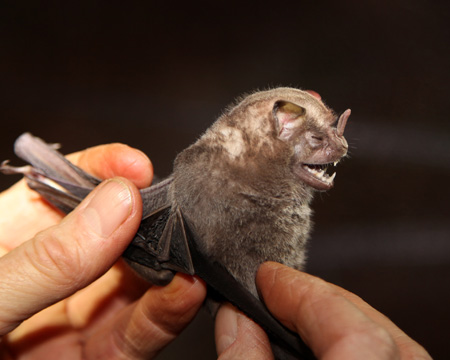 Jamaican Fruit-eating Bat (Artibeus jamaicensis)
But we also caught several of the more unusual - and very pretty - Cuban Fig-eating Bats (Phyllops falcatus), with their distinctive pale shoulder patch and broad, translucent, flap of wing membrane between the first and second finger.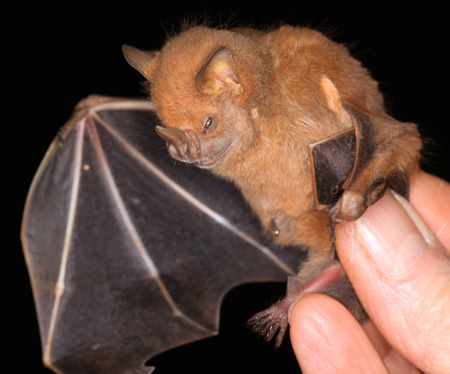 Cuban Fig-eating Bats (Phyllops falcatus)
As well as one tiny Cuban funnel-eared bat (Chilonatalus micropus) quite high up the mountain and over a small pond.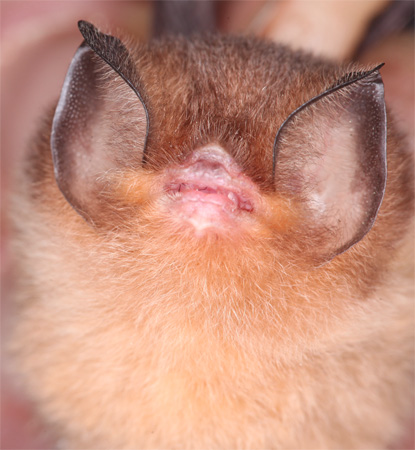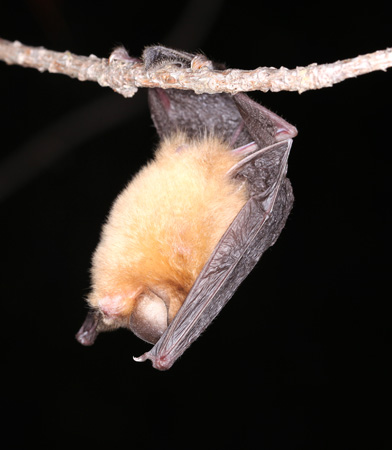 Cuban funnel-eared bat (Chilonatalus micropus)
The latter two species were new for me.
In a cave near Pedernales, we also saw my first Waterhouse's Leafnosed Bats zipping around.
Sunday was spent driving back to Santo Domingo, stopping at Los Patos caves, a couple of hours down the road, where we saw Jamaican Fruit Eating Bats, Waterhouse's Leaf-nosed Bats and huge numbers of Brown Flower Bats (Erophylla bombifrons) which were easy to catch but feisty to handle. The caves are simple to enter and right by the highway. Just ask a local.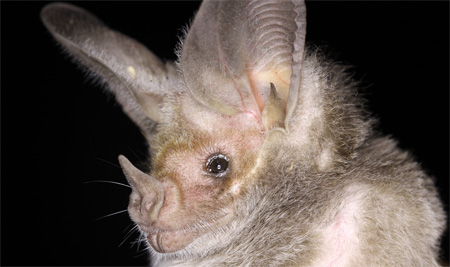 Waterhouse's Leaf-nosed Bat (Macrotus waterhousii)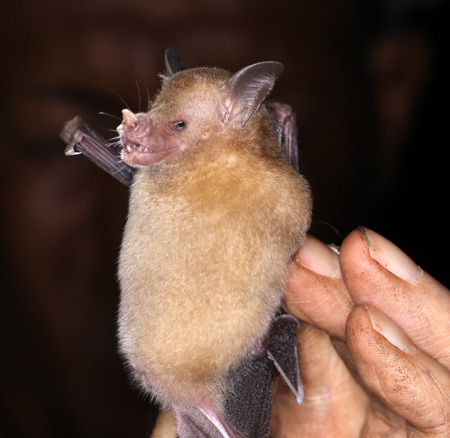 Brown Flower Bats (Erophylla bombifrons)
The second stop was El Pomier Caves, about 45 minutes outside of Santo Domingo. There were huge numbers of Brown Flower Bats here too, as well as a few Leafnosed Bats, but the diversity here, as in Los Patos, was a little disappointing: we'd hoped for Mexican Funnel Eared Bats (Natalus stramineus) and Poey's Flower Bats (Phyllonycteris poeyi) too for example. However, there are almost undoubtedly other species living in both caves that might be better found with a trap outside.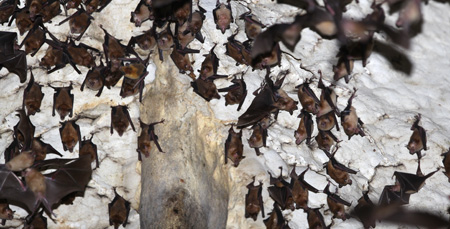 Flower Bats by the thousand in El Pomier Caves
The Dominican Republic is only a 4 hour flight from New York, but a world away and - in January - a 70F rise in temperature.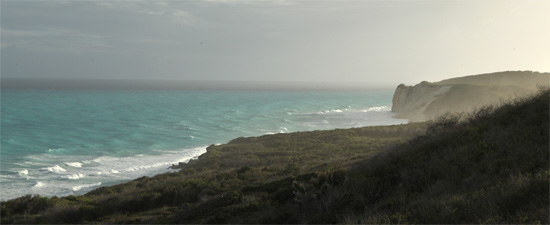 A long weekend seems to be enough time to be pretty sure of seeing a Solenodon, and to have a good chance for Hutia too, especially in the dry season.
A fun and successful trip with 7 species in 4 days, 5 of them new for me, and one - Solenodon - in my current Top 10 Most Wanted. My thanks to Fiona Reid and Vladimir for their company and help with the arrangements, and especially to Jorge Brocca for organising it all and to Nicolas and Christopher for finding the two special mammals. Thank you too for whoever caught the $10 lobster I ate on this beach. Sometimes its OK to have a break from the mammals.

See Also
Hispaniolan Solenodon (Jan 2009).