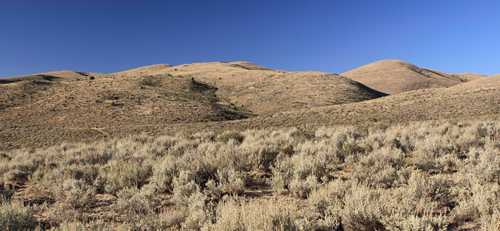 Owyhee Canyonlands
Although I knew Idaho was famous for its potatoes, trout fishing and scenery, I didn't know much about its mammals until 2008 when I started corresponding with Matt Miller. It quickly turned out that not only was Matt a nice guy and knew his mammals, but Idaho was also a good place to visit, particularly if I wanted to see an American Badger. I did. And Matt was generous enough to invite me to stay and try to show me one.
In September 2009 I had the opportunity to spend a weekend there during a work trip to Seattle. I went back again for a weekend in April 2010 with my kids for a Ground Squirrel Safari (the Ground Squirrel window of opportunity each year is quite restricted – late spring is the best time: Beldings (Urocitellus beldingi), Merriam's (Urocitellus canus), Idaho (Urocitellus brunneus), Piute (Urocitellus mollis) and Columbia Ground Squirrels (Urocitellus columbianus) are all close to Boise and the latter three I saw on that trip (Beldings don't emerge until May and I saw them in California in 2011. I don't remember why we didn't also look for Merriam's as they would have been active. But I saw them with Matt when I returned in 2012). All the sites I visited were within a 2 hour drive of Boise.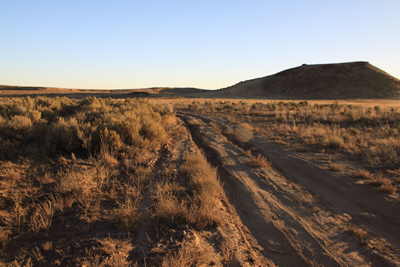 Badger habitat, near the Snake River.
Boise
Matt, and his wife Jennifer, live in Boise, a pleasant city with a definite Australian feel to it. They live only 15 minutes from Boise Airport, and introduced Eastern Fox Squirrels are very common in their suburb. Yellow-bellied Marmots were also common very near their house and we saw a couple in April 2010.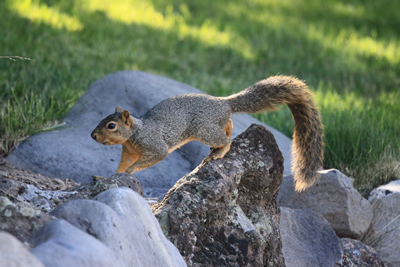 Eastern Fox Squirrel
A farm, 5 minutes walk from their place, were battling Northern Pocket Gophers in their veggie garden and they were happy for us to poke around some of the Gopher holes. The best way to see a Gopher, it seems, is to find a fresh mound, poke around with a stick until you find the tunnel then dig up the hole so the end of the tunnel is exposed to the daylight (the trick is to find a very fresh mound where the tunnel has not yet collapsed). The photo - or breeze- sensitive Gopher will then emerge to fill in the hole. I set a live mole trap in one tunnel and returned a few hours later to find the hole I had dug gone and the trap had disappeared. I thought someone had moved it until I dug up the hole again to find my empty trap. The cunning Gopher had somehow avoided the trap – or gone straight through it - filled in the hole, and returned from whence it had come. We tried again in April 2010: again lots of fresh mounds but no Gophers.
We caught several Deer Mice along the riverside trail near Matt's place. Raccoons, Mink, Striped Skunks and Beavers are all common along the river here, though I didn't go looking for them.
Emmett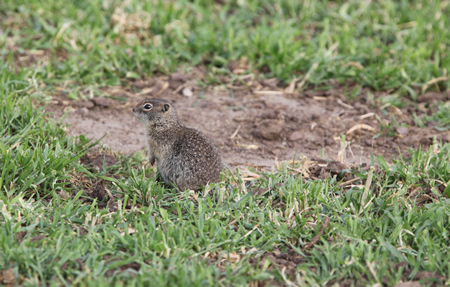 Idaho Ground Squirrel
Idaho Ground Squirrels are America's rarest, but though they are scarce they are not hard to find in the right spot. Matt took me to one of the few known colonies, less than an hour from Boise, just outside the town of Emmett, off Van Dusen Road. The colony we saw is all on private ranch lands so you have to watch them from the road. If you continue on that road, there are some smaller colonies on public property (the area called Squaw Butte). We must have seen over a hundred animals in less than 5 minutes, but this is a large proportion of the total population.
Matt is happy to take others to see the animals. Contact him through his blog.
Indian Creek Recreation Area
The Indian Creek Recreation Area is about 20 minutes from Boise aiport, east along I84. Take exit 71 which goes to a truck stop. There's a cattle grid just past the truck stop and turn immediately right after the grid. We set some traps and spent a couple of hours spotlighting here. There were hundreds of Badger holes, but we couldn't see a Badger. But we did see in September 2009 a Mountain Cottontail, Coyote, Black-tailed Jackrabbits and a couple of Kangaroo Rats (probably Ord's). I had one animal among the 14 traps the next morning - a Deer Mouse and probably just the common North American Deer Mouse, though its large ears had us thinking to begin with that perhaps it was a Canyon Deer Mouse. But its tail was too short.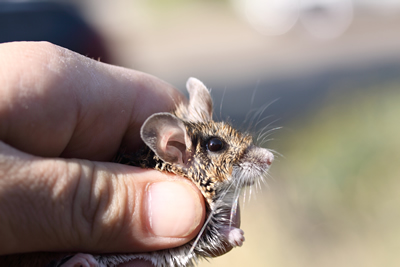 North American Deer Mouse
In April 2010 Matt brought me back here to see Piute Ground Squirrels which are common here, but only from February through May. The Piutes were my 1000th mammal tick. Maybe not the Snow Leopard I had been hoping for to mark the occasion but I am not complaining!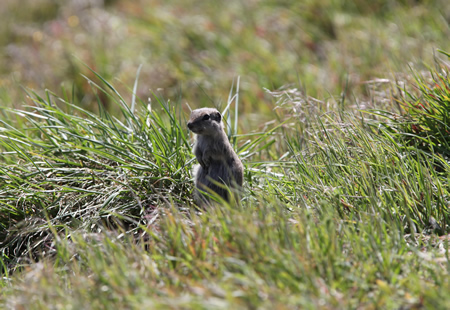 Piute Ground Squirrel
Owhyhee Canyonlands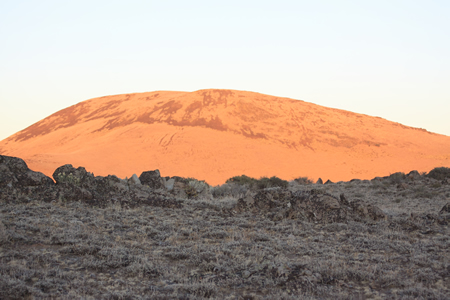 Sunset at Owhyhee Canyonlands
We spent a Saturday afternoon and evening in the Owyhee Canyonlands in September 2009. A beautiful area of sage brush and another good area for badgers. The mammals were quite hard to find, even the Jackrabbits had disappeared. A year ago it was apparently crawling with Blacktailed (lower down) and Whitetailed Jacrabbits in the higher elevations. Spotlighting eventually produced a couple of Whitetailed Jackrabbits (a lifer) but no Badgers. During the later afternoon we also saw a Pronghorn, a few Mule Deer, a Coyote, and what were probably Least Chipmunks. In the summer this area is excellent for Ground Squirrels but they were all in torpor by now it seemed (despite the temperature being an unseasonably warm 30C still).
In May 2012 I headed back to the a different part of the Owhyheed. Matt Miller took me to Wilson Creek, which is Bureau of Land Management land about 25 miles from Nampa Idaho (the area is also known as the Hardtrigger Wild Horse Area). It is accessed from Wilson Creek Road and is a part of the 5 million acre southwestern corner of Idaho known as the Owyhees: I'd already visited a different part of this high desert, sagebrush and canyon land with Matt. Its a great spot. As always Matt came up trumps and we spotted a couple of Merriam's Ground Squirrels (Urocitellus canus). It wasn't so easy though. There was evidence – colonial burrows – of a decent population there but perhaps the strong breeze was keeping them underground that afternoon. We spotted a few White-tailed Antelope Squirrels and – after half an hour of walking and driving – Matt spotted a lone Merriam's Ground Squirrel poking out of its burrow. I couldn't get a photo. Matt also advised that this species often retires for the night pretty early. There was a Black-tailed Jack Rabbit in the same area.
Silver Creek Preserve



Silver Creek Big Sky
In April 2010 Matt took us to stay at the Silver Creek Preserve which is run by The Nature Conservancy. Its a beautiful spot, with a lovely little cabin, about 2 hours east of Boise on Highway 20, at the settlement of Picabo (pronounced peekaboo).
Columbia Ground Squirrels were common in the area, and there was an enormous amount of Montane Vole activity - their burrows and runs were everywhere, though I only saw one animal and could only trap North American Deer Mice.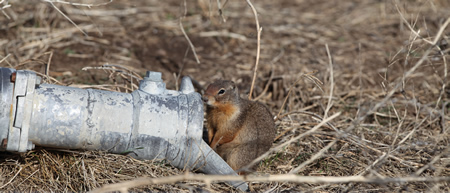 Columbia Ground Squirrel
We saw several Muskrats in the creek near the cabin, as well as some Mountain Cottontails, a Coyote and a few Mule Deer. Moose are often here though we couldn't find any. The manger of the preserve also tried to find me a Bushy-tailed Wood Rat which are often resident in farm buildings. But though 2010 was a great year for voles, it was a bad year for Packrats and we didn't find one. I did enjoy her stories of how the rats had been know to steal her car keys from the house, and tomatoes from the garden, but only to decorate their nests!
Keep a look out for Marmots and Pikas in nearby Craters of the Moon National Monument.
Snake River Birds of Prey Conservation Area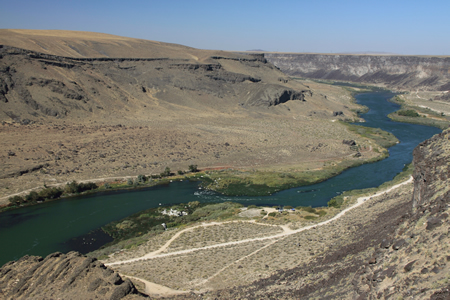 The Snake River Birds of Prey Conservation Area is about 40 minutes from Boise (take I84 west and take exit 44 to Kuna and follow Meridian Road heading south, then after 8 miles turn left onto Swan Falls Road to enter the reserve). This area has a huge number of Ground Squirrels and so supports one of the highest densities of American Badgers anywhere. But it took 6 hours of driving before I eventually found one at 9pm, just as I was leaving in September 2009. The area along the drive to Initial Point (8 miles after the Kuna visitor centre) is reputed to be one of the best places to look and this was where I saw one, about 70 metres off the road. They have quite good eyeshine and are not particularly skittish. But as I walked closer to try for a photo it disappeared (I guess down a hole). But it was a lengthy and reasonably good sighting of an excellent animal. Phew!
The only other mammal I saw was a Cottontail.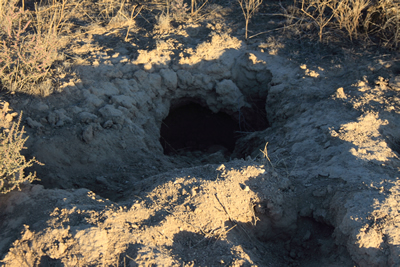 Badger hole
So both missions accomplished and a big debt of thanks to Matt and Jennifer for their hospitality, expertise and for teaching my kids how to toast marshmallows correctly. Check out Matt's blog for the Nature Conservancy http://www.idahonaturenotes.blogspot.com/ .
In July 2015 I spent a weekend on a family camping trip near LoLo Hot Sprigs, in north-eastern Idaho. A lovely spot to camp and swim but I wasn't really mammal watching. I couldn't help but notice a few Red-tailed Chipmunks running around the campsite (The Wilderness Gateway Camp, at milepost 122 along Hwy 12), along with Red Squirrels and Columbia Ground Squirrels. I set 40 traps but caught only Deer Mice. The highlight was this Moose in a pond off the Clearwater River, 3 or 4 miles east of the campsite along Hwy 12.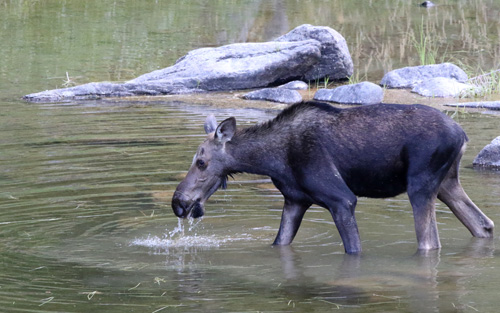 Moose
My More Detailed Trip Reports
Townsend's, Merriam's and Washington Ground Squirrels, a weekend in May 2012.
See Also
RFI Boise in early July (June, 2015).
Utah, Wyoming, Idaho & Montana (September 2014): brief notes on a few nice mammal sites from Vladimir Dinets.
Pygmy Rabbit site near Bannack State Park, Dillon (Nov, 2014).
Other People's Trip Reports
Owyhee Backcountry Byway, 2014: A note from Matt Miller about a Pygmy Rabbit and other mammals along this Idaho road.
Yellowstone and a bit of Idaho, 2013: Alan Dahl, 9 days & 23 species including Pika, River Otter, both Bears, Wolf and Moose.
The Rockies, 2012: Jan Luis Ortega, 2 weeks & 25 species including Wolves, Grizzlies and a Badger.

Idaho & Wyoming, 2012: Steve Morgan, 2 weeks & 37 species including American Badger and Long-tailed Weasel.
Wolverine in the Pioneer Mountains, August 2011.
North West 2010: Montana, Idaho, Wyoming and Washington : John Fox, 13 days, 4400 miles and 34 mammals including a Long-tailed Weasel and hearing a Pygmy Rabbit.